Step 1: Choose a category of symbols from the pull-down menu.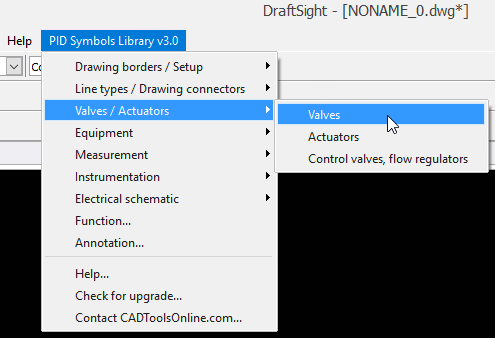 Step 2: A dialog box appears showing all of the available symbols with a description to the left. Choose the symbol you would like to insert and click on "OK"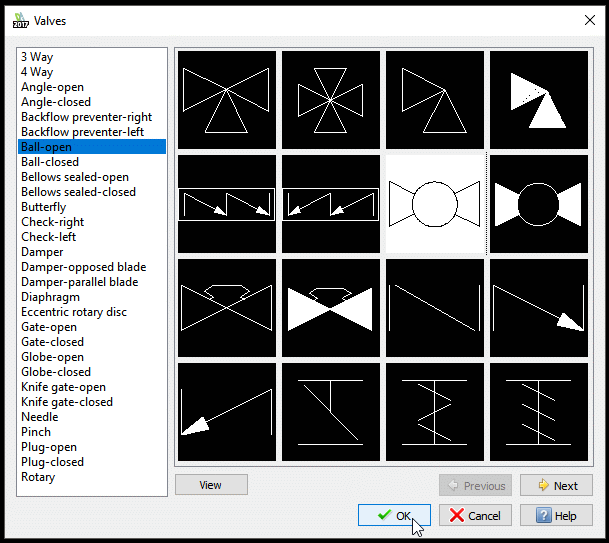 Step 3: Insert the symbol in your drawing and rotate it to the correct position.
Buy Now | Download brochure | Download demo
Details about the blocks:
Each symbol is drawn on layer zero with "byblock" attributes.


Once inserted, the symbols will take on the characteristics of your current layer settings.


Valve and instrument symbols contain built-in attributes. You'll be prompted in the command line to input the information, or just leave it blank.
Here's what you get:
Valves, control valves, actuators, line types, measurement symbols, function symbols, instrumentation and electrical schematic symbols conform to ANSI/ISA Standard 5.1-2009.


Equipment symbols are drawn to common industry practices.
System requirements:
Compatible with DraftSight


110 megabytes of available disc space required
Pricing:
Single user license - $89.00
2 to 10 user licenses - $75.00 each
Unlimited user license - $800.00
Is this a good deal?
If you're looking for a P&ID symbols library to speed up your CAD department's productivity, consider this. If a CAD operator making $25 per hour created this library and spent an average of 15 minutes to draw each symbol, that CAD operator would be paid $2,400 to create just the symbols. That doesn't include the custom line types and the menu system.
30 Day Money-Back Guarantee:
If you're not satisfied with your purchase, return it for a full refund.
Try before you buy:
Download the "P&ID Symbols Library v2.0" DEMO version.
---
How to order:
Select the method you prefer: